Champion jockey Hugh Bowman knows what it takes to win the Golden Slipper from the front after saluting on Farnan last year, and it is what makes him confident of going back-to-back with favourite Profiteer on Saturday.
"He's faster than Farnan," Bowman said with a casual air of confidence. "He has to do it, but he is a very fast horse and he is getting better."
Hugh Bowman wins the Inglis Millenium on equal Golden Slipper favourite ProfiteerCredit:Getty
Profiteer, which drew barrier five, and Stay Inside, which will jump from gate three, are equal Golden Slipper favourites at $4 after drawing perfectly.
One TAB punter was quick to support Profiteer to the tune of $20,000 at $4.50, believing his brutal racing pattern, which should see him lead without too much effort, will be too much for his rivals at Rosehill on Saturday.
Profiteer demolished the Inglis Millennium field, which was his initial Sydney target, using sheer speed and although some doubt that he can run out the Rosehill 1200m, Bowman is confident – even after he was run down in the final strides of the Todman Stakes by Godolphin colt Anamoe.
"After running at such a quick speed in [the Inglis Millennium] I tried to go a little bit slower on him last start [In the Todman], and although he was beaten he coped with the 1200m," Bowman said.
Profiteer was just edged out by Anamoe in the Todman Stakes.Credit:Getty
"We are mindful that there will be much better horses chasing us on Saturday but we think he is up to the task. The way he went this morning, we are very excited about his prospects."
Trainer Mick Price has been planning for the Golden Slipper since Profiteer's debut win at Flemington in December and has already picked a big pay day in the Millennium, but Saturday is the ultimate prize.
"He won at Flemington and then we set him for the Millennium – for $2 million, why wouldn't you – and then we had a little time," Price said. "He was a month between runs into the Todman and he raced a little bit fresh, but I always thought the Todman would bring him on a bit.
"It would have been nice to win but this race [the Golden Slipper] was the target after Millennium, After the Todman he blew for about 25 minutes, which gave me a good measure of his fitness. Even though he was beaten that day, it was what I wanted to see from him because I didn't want him peaking for that race. He is peaking for the Slipper."
Price has come close to winning the world's richest two-year-old race, with Samaready and Flying Artie running thirds, but he might not get a better chance than Profiteer.
"I think it is ideal," Price said of the draw. "I think from barrier five he will be one of three or four going forward and will do it without having to do too much work."
The barrier draw finished off a perfect morning for Price, who watched Profiteer complete his preparation with an excellent workout at Rosehill where he clocked 22.5 seconds for the final 400m.
"He ran time with something up his sleeve this morning and Hughie [Bowman] was happy," Price said.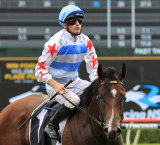 Michael Freedman believes Stay Inside has kept improving into the Golden Slipper.Credit:Getty
Michael and Richard Freedman had hoped for a good draw for Stay Inside and were not disappointed when he came up with gate three. Michael Freedman has been delighted with the colt since he ran a luckless fourth behind Anamoe in the Todman.
"He has just kept improving since that run, which is what we expected," Freedman said. "You want to draw a barrier and he has done that now. If the rain comes I think will help him – but even if it doesn't, he is spot on."
Third favourite Blue Diamond winner Artorius was only one to draw out in gate 13, which saw his price drift from $7 to $8.50 – but co-trainer Sam Freedman wasn't concerned.
"The penny hasn't dropped with yet and he is largely untapped," Freedman said. "He will be going back and coming with the one run. If they are rolling along in front and horses are getting home, he will be the strongest of them."
The only unbeaten runner going into Golden Slipper, John Sargent-trained Four Moves Ahead, will jump from barrier 10. "That's good," Sargent said. "She has tightened up since her last win and she ready to go."
Godolphin fared poorly at the draw as its colts Ingratiating and Anamoe drew gates 11 and 16.
Chris Waller will have three runners with Silver Slipper winner Home Affairs getting gate two, O'President, eight, and Magic Millions winner Shaquero out in 15.
Golden Slipper field
Most Viewed in Sport
From our partners
Source: Read Full Article