hen England used to regularly succumb to defeats as they did in the third Test, albeit a bit longer than five-and-a-bit sessions, they had one tried and tested remedy. One they took before consulting video analysis of lacklustre techniques and undergoing the necessary corrections in the nets. A grand-old piss-up.
It was something even the stern-nosed Duncan Fletcher advocated, encouraging his team to indulge in a "blow out" before getting back to work. To try and forget dispiriting losses, even spill out some truths among the group that may only be dished out and consumed with a bit of Dutch courage. Maybe even exchange a couple of punches and hug it out at the end.
These nights tend to have plenty of gallows humour, too. In Dhaka, 2016, after England had been turned over by Bangladesh for the host's first Test victory over them, a couple of players insisted on paying for all the rounds – beer was around £10 a pop -because it would surely be one of the last times they were privy to meaty Test match per diems. Both did go on to feature more for the national side, as it happens.
On Thursday night, crushed by a 10-wicket defeat inside two days to trail India 2-1 in the series, there was no such fix. The bio-secure bubble meant the relief of a bar was no option, and with Gujarat being a dry state – those from outside can obtain liquor licenses to purchase alcohol – the hotel was out, too.
Thus, an evening of sober social media doom-scrolling gave way to an unedifying back and forth. England women's spinner Alex Hartley's slightly ill-timed tweet about the men being done soon enough to allow a distraction-free watching of the women against New Zealand was countered by Test opener Rory Burns, who took aim at a "disappointing attitude" towards a chastening loss. His post was boosted by likes from teammates Ben Stokes and James Anderson.
The ECB scurried behind the scenes to broker some peace over the molehill. Women's allrounder Nat Sciver, fresh from dispatching with the White Ferns in the 2nd ODI with three for 26 and 63 not, used her characteristic matter-of-factness to deal with this nonsense as well: "I didn't see the tweet but I did hear about it from some of the girls," she said, player of the match award under her arm. "Maybe it wasn't the best timing – if we had lost a Test match in two days I would have been pretty mad – but that's Twitter for you."
Beyond an evening of online rubbernecking, it provided a window into the soul of a hurting squad out in India. A team is never happier than when they're winning, and within all successful runs lies the small print that none of that good feeling can be stored away for times like these, when it's needed most.
Independent Rugby Newsletter
Live Rugby union coverage direct to your inbox every week
Read our privacy notice
Independent Rugby Newsletter
Live Rugby union coverage direct to your inbox every week
Read our privacy notice
Lest we forget, this is a group of players who polished off a sixth consecutive away victory at the start of the series, a sequence unmatched by England sides over the last century. And yet two defeats against world-class spinners on unfamiliar decks has led to internal doubts and external frothing.
The early finish means they have just under a week until the fourth Test, again in Ahmedabad, to pull themselves together. A long run-up towards salvaging pride and the series has started with a couple of days off before the fightback begins. Staying level with so few distractions from idle thoughts will be a challenge, but one they must rise to.
Speaking on Friday, on what should have been day three, Chris Silverwood dismissed the online quibble, avoiding the spin better than batsmen on both sides this week: "I've got more on my plate at this end to worry about," he said. "That's what I'll be encouraging the boys to do as well, keep their heads in what's happening here."
The coach revealed a "sensible" conversation had taken place regarding the latest defeat, helmed by himself and the England captain, Joe Root. One free of blame, encouraging introspection, acknowledging how alien conditions were. Not just underfoot, but with a pink SG ball that skidded on more than the traditional red, coming onto right- and left-handers quicker than expected, hence 21 of 30 wickets via front pads and disturbed stumps.
"We do have to get better on these pitches and we do have to accept there are places where we could have improved, look at the first innings we had an opportunity there to score more runs, next time we'll pounce on that opportunity."
"But it probably pushed us to the extremes of what most of our players, if any, have experienced As tough as it is and as painful as it is at this moment, hopefully we can take some good lessons."
Silverwood himself spent Thursday night searching for silver-linings to counter the damage that might have been done to self-esteem. Particularly for the inexperienced members of the group unfamiliar with the over-zealous scrutiny at this level given how well things had gone until now.
"You look at the guys we've got in there, your Popes, Crawleys, Sibleys, all these guys coming through this experience, as tough as it is, will hopefully galvanise them. When they do get on flat surfaces, better surfaces, will make them even more hungry and desperate to make sure they get the runs on those surfaces.
"Hopefully this experience will just harden them towards that and make them potentially just appreciate the flatter wickets a little bit more and make them more greedy for it. But equally, hopefully they do take a lot from it, and next time they come onto a surface or experience a situation like this, it won't be as much of a shock to them."
In steering clear of public admonishment of personnel, he called for perspective. And within that, thinly veiled comments that suggest England have not quite moved on from what lay before them on Wednesday, when they won the toss and chose to bat first with an XI carrying just the one outright spinner to India's two. Then again, even the hosts got a lot wrong.
They lost their last eight first-innings wickets for just 47, an advantage spurned when England were turned over for 81 to offer up a paltry target of 49. Credit was given to left-arm spinner Axar Patel, who took 11 for 70 in the match, and Ravichandran Ashwin (seven for 74), and there was criticism for how England ceded a position of 74 for two in the first innings before being dismissed for 112.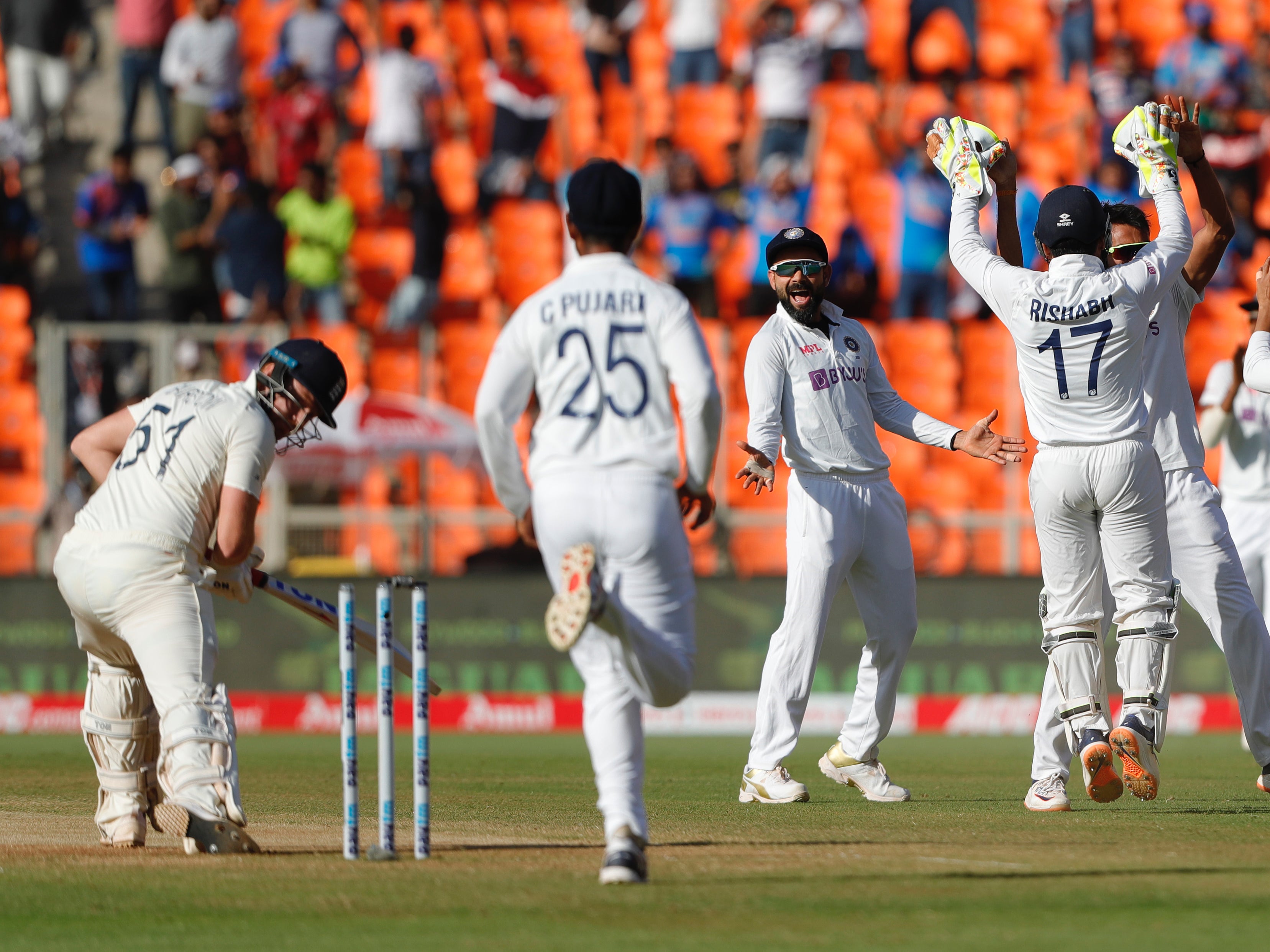 And though Root was reticent to blame the pitch after the defeat, Silverwood, while dodging opportunities to do so himself, alluded to private discussions between the two over its suitability as a Test surface. Whatever action to be taken will be done by the ICC at their behest. But England may actively push for a review of whether it was appropriate for a five-day encounter.
"We will be talking about certain things behind the scenes," he said. "But at the same time, we are disappointed that we are sat here when there should be three days of cricket left. I am sure a few spectators are as well. But unfortunately, the game did finish. We are where we are. From my point of view now, heading to the next game, how do we make amends and make sure that we come out fighting for the next one and hopefully draw the series?"
Lifting morale will be the first port of call. And when considering options for the same ground, on what will likely be a similar surface albeit with a red ball, Dom Bess could make a return.
After 15 wickets across 2021's first two Tests against Sri Lanka and the first against India in Chennai, the 23-year old was dropped for Moeen Ali and then an extra seamer. The wings and enthusiasm of an in-your-face off spinner clipped, especially when Root talked up weaknesses Bess needed to iron out behind the scenes.
Reports are he remains chipper and raring to go. With Chris Woakes returning home for his shift of rest after not featuring in the five winter Tests so far, there is one less barrier to Bess' potential inclusion.
"He's been great around the group," beamed Silverwood. "We've got a good group here who do get around each other and help each other out, keep each other going. You have to do that in bubble life, which is what we're living in at the moment. We're lucky we've got that sort of environment and he's been great around the group."
It's a statement that bodes well for Bess and for the rest. Indeed, Thursday night's online stoush had the hallmarks of a group who felt they had to rally in the face of what was ultimately a misconstrued slight against them.
They must remember they remain in control of their destinies, masters of their own fate if not what they will battle on next week. As a long winter draws to an end, they must forget not just the last two days but the last weeks to close it out by returning to winning ways.
Source: Read Full Article