That's a wrap
Thanks for joining today.
Australia produced perhaps their most dogged day of the series after recovering from 3-12 to finish on 6-241 after 59.3 overs. It was an entertaining day of Test cricket.
Make sure you log onto our mastheads for all the latest news and analysis from Hobart.
See you tomorrow at the slightly earlier start time of 2:30pm, due to today's rain which resulted in more than 30 overs being lost.
Have a great evening. Cheers.
Head goes about his business in Hobart. Credit:Getty
BAUM: Marnus the fall guy in fifth Test pantomime
Marnus Labuschagne's dismissal in Hobart was kooky, but it also belonged to a rich tradition of fifth Tests and damndest things. In the end, everything and one gets upended.
Australia and England are the only countries that play five-Test series against one another now, and the last in each rubber often sits outside time. When there is nothing riding on it, the mood can be demob happy. Regularly, the result is the exception to the series rule.
Let's stick to a 50-year time frame. In the tortuous 1970/71 series, the last (seventh!) Test in Sydney is remembered for a spectator's attack on star English quick John Snow and a walk-off led by England captain Ray Illingworth. Everyone had had enough by then.
Four years later, Jeff Thomson and Dennis Lillee terrorised England, but by the last Test both were injured, England captain Mike Denness made 188 of his 318 runs for the series and England won by an innings to set the scoreline at 1-4.
In 1986/7, England prevailed, but Australia speculated on little-known off-spinner Peter Taylor for the dead last Test, and he took eight wickets to earn a consolation win.
On it goes. In 1993 and 1997, rampant Australia lost sign-off Tests at The Oval. In 1988/99, empty-handed England suddenly had Darren Gough's Sydney hat-trick to take home. On their next visit, tormentors Shane Warne and Glenn McGrath were invalided out of the last Test and England seized a win for the road, notwithstanding Steve Waugh's famous last-ball-of-the-day century.
Skip ahead to 2013, a fruitless tour for Australia, but in the fifth Test a certain middle-order batsman at last blazed his first century. It was about four years before Steve Smith got out again, or so it seemed. In England in 2015 and 2019, the fifth Test each time was won against the grain.
This is a grab-bag, but you get the idea. Familiar combatants engage with the best of intentions, but a kind of stir-craziness takes hold. They don't set out to play zippity doo dah cricket, but circumstances and mindset lead them into it.
Both would have felt it acutely this time with the COVID walls closing in.
READ GREG BAUM'S FULL COLUMN HERE
Marnus Labuschagne lies helpless after tangling himself up, falling over and being bowled by Stuart Broad in Hobart.Credit:Getty Images
BRETTIG: Head channels Lehmann in counter-punch on green-top
As he contemplated the likely pitch for the Hobart Test this week, Travis Head reckoned the curator Marcus Pamplin would not turn out the sort of verdant green surface he could recall from numerous Sheffield Shield games.
Instead, on what he expected to be more of a straw-coloured pitch designed to go the distance, Head was preparing for the need to play a conventional Test innings in the vein of Usman Khawaja's centuries from No.5 at the SCG.
But when the Bellerive Oval strip unveiled for Tasmania's first Ashes Test match turned out to be one that offered around twice the amount of seam movement available to bowlers at any of the previous series venues, it was Head who adapted best.
Perhaps he was helped by a previous memory – in 2018, Head clattered 145 from 167 balls against Tasmania as he took South Australia to within 16 runs of a fourth-innings target of 331. But there was also a touch of another SA left-hander about the way Head took on England on an English seamer: Darren Lehmann.
Over years of extraordinary performances for SA and Yorkshire on opposite sides of the globe, Lehmann had a simple credo for how to approach batting in contrasting conditions. On true surfaces that rewarded patience, Lehmann would grind for runs and manipulate fields.
On sporting, seaming surfaces, however, Lehmann's approach had very little to do with survival. He reasoned that his best chance was to go down swinging, and on plentiful occasions bowlers and opposition captains were stunned by the ferocity with which he would attack in conditions theoretically not in his favour.
READ DANIEL BRETTIG'S ANALYSIS PIECE HERE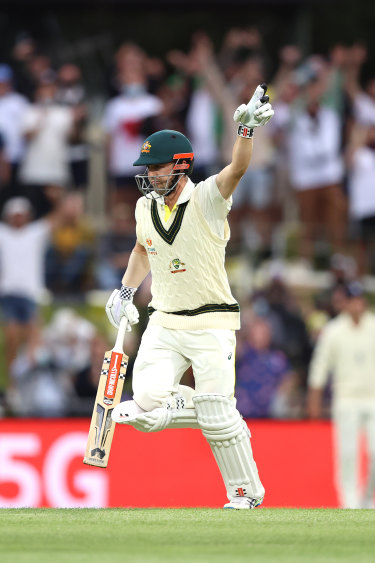 Head raises his hand after reaching triple figures. Credit:Getty
Gilchrist reckons that was Australia's day
Australia finish the day on 6-241, headlined by a blistering century from Travis Head, 74 from Cameron Green and an entertaining 44 from Marnus Labuschagne. The first couple of hours tomorrow could have a big bearing on the game.
Play has been abandoned
That's it for today. Rain has caused an early end to day one.
Play will begin half an hour earlier tomorrow at 2:30pm.
Covers are back on
Not ideal. The big covers have gone back on. No word if that will cause another delay.
Meanwhile, if the Novak Djokovic saga is your go, check out the live blog. There's a bit going on there and plenty has happened since we sent out a note a few hours ago. Any excuse to use this photo once again.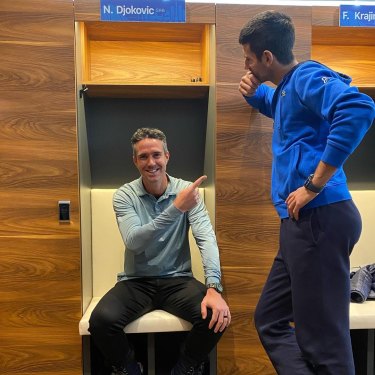 Former England cricketer Kevin Pietersen (left) poses with tennis player Novak Djokovic at his tennis academy in Belgrade on December 16. Credit: Instagram
Play to recommence 10.15pm
Happy days. We'll have some more cricket in about 15 minutes.
Australia resume at 6-241, with Alex Carey (10) and Mitchell Starc (0) at the crease.
CHAPPELL: Bigger bats have created spectacle, but it has come at a price
Changes in technology have had a huge impact on all aspects of our lives from the end of the 19th century to the current day. Alexander Graham Bell changed the way people communicated with his invention of the telephone in 1876.
I think the development of the aeroplane had the biggest impact in the 20th century. Suddenly, we could get from one side of the world to the other in a matter of hours. Television and the mobile phone would be worthy contestants for a podium finish.
Technology has advanced at a dizzying pace from the second half of last century. In cricket, the bats that Gilbert Jessop used in the early 1900s were not greatly different from those used by Bradman 30 years later.
My hero as a youngster was Neil Harvey. Neil is still one of the very best batters I have watched. His fleetness of foot and impeccable timing were simply enthralling to a youngster who harboured ambitions of playing Test cricket. I think Neil could have used a picket from the SCG fence and still made runs. He didn't over-power the ball, he used the energy generated by the bowler and redirected it into the gaps in the field.
The bats used by Neil were very different from the bats that are being used currently. It is one of the reasons why it is futile to compare the champions of one era with another. Suffice to say, a champion in one era would have been a champion in any era because success has more to do with the mind than the body; or, the implement that one uses.
Having said that, modern bats have transformed batting, compared with bygone eras.
READ GREG CHAPPELL'S EXCELLENT COLUMN HERE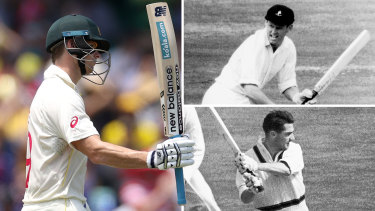 Changes in technology mean Steve Smith, Graeme Pollock and Neil Harvey all played with vastly different bats. Credit:Getty, Getty, Getty
Trivia time as we wait to see if play resumes
Is Hobart's day one crowd of 9002 up to scratch?
I reckon that's a pretty disappointing figure, given Hobart has never hosted an Ashes Test.
Would love to know what the folk of Canberra think about this.
After originally writing that capacity is 20,000 in Hobart, I am now told that only 14,000 fans could have gone today due to COVID reasons. Thanks to reader Peter for pointing that out.
Manuka Oval in Canberra can hold 13,550 with its current seating plan.
(Covers are still on).
Most Viewed in Sport
Source: Read Full Article