Pep Guardiola says he is planning on staying at Manchester City for the long term because the club "gives the manager everything he needs".
Guardiola, the former Barcelona and Bayern Munich head coach, arrived at City in 2016 and has won three Premier League titles, an FA Cup and four League Cups in five seasons.
The Spaniard could win his ninth major honour as City boss on Saturday when his side take on Chelsea in the Champions League final in Porto.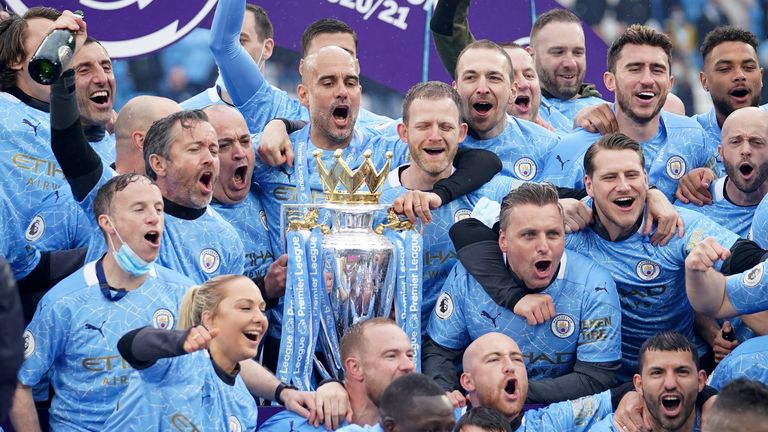 It is already the most time Guardiola has spent at any of his clubs, and the 49-year-old, who has two years to run on his deal after this season, says "the results will decide if I can stay longer".
Guardiola named LMA Manager of the Year
Foden: I grew up admiring Pep's style at Barca
"The club gives the manager everything he needs", said Guardiola, when asked why he has been able to remain at City for longer than his previous roles.
Trending
"Of course investment, I cannot deny that and everybody knows it, but not just that.
"I have friends in the hierarchy above me, and the players have the feeling that I'm the manager because they feel I've been supported by all the people [above me].
"Most importantly, apart from the players – because in five or six teams in England and Spain, they have top players as well – I feel comfortable with my staff, the backroom staff, I have everything. I can't ask for more to do my job as best as I can do.
"It's simple as that. We are in the same line, we take decisions together, we share the mistakes together, we share the good things all together and this is the point.
"When we lose, they don't tell me that I'm responsible, we look to find a solution. I know as a manager that if we don't win, they are going to fire me, but they are going to do it in a friendly way.
"This is the way we work here and this is why I extended the contract here by two years and after two more years. I feel incredibly comfortable working, not only with the players, but all the departments in the club.
"That's why I decided to stay longer."
Source: Read Full Article