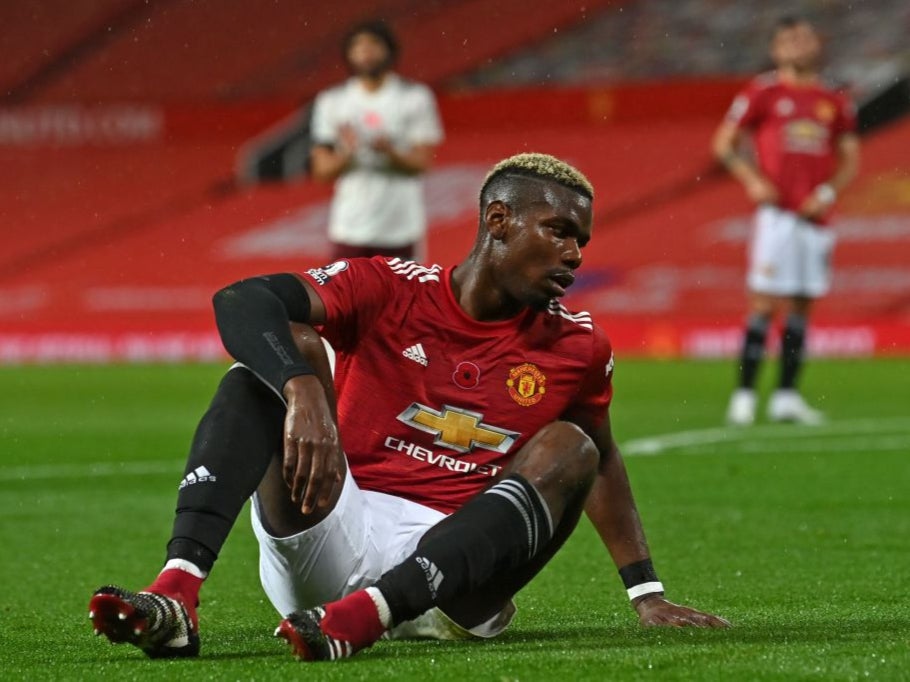 Paul Pogba reacts after giving away a penalty against Arsenal
In the late and fortunate Premier League win away at Brighton he was anonymous, with just 41 touches of the ball and only 25 completed passes before being hooked off shortly after the hour mark. He was equally ineffective in the defeat to Crystal Palace a week earlier, while his performance in the 6-1 grew worse with every Tottenham goal.
There is one significant mitigating factor that must be considered in any assessment of Pogba's start to the season, though.
While Pogba was on international duty with France in late August, Dider Deschamps announced that the midfielder had tested positive for Covid-19 and would observe a 14-day period of self-isolation.
Just over three weeks later, he was starting against Crystal Palace. He then started again against Brighton the following weekend, then played the full 90 minutes against Tottenham the weekend after that.
Pogba was subsequently dropped to the bench by Solskjaer, who suggested last week that he had made a mistake in rushing him back so soon. "Maybe I was unfair to him starting him that early in the first few games but he's coming on and he's done great when he's come on," he admitted.
"He's been out for a while with coronavirus this summer, so he's getting better and better and maybe more in his shape," the United manager added, hinting that Pogba is still working his way back to match fitness after the virus disrupted his pre-season preparations.
Pogba himself suggested that too on Sunday with his "out of breath" comment. In his MUTV interview, he talked about being the need to be "fresher" when sprinting from one penalty area to defend another and implied that he has to work on his fitness.
If that is the case and Pogba is still struggling with a short and disrupted pre-season, why start him twice in the space of four days against Leipzig and Arsenal?
Why keep him on the pitch for the full 90 minutes on Sunday when he looked fatigued and was becoming something of a liability?
Why, also, start him for three straight league games soon after his recovery, especially when his performances did not warrant it?
Pogba's performances at the beginning of this season have left much to be desired but Solskjaer's management of his most important player also deserves scrutiny in that regard.
It does not feel like a coincidence that Pogba's best performances have either come off the bench or immediately after a prolonged run out of the starting line-up. Dropping him again, then slowly reintroducing him to regular football may be the solution for Solskjaer.
Rightly or wrongly, United's record signing has spent much of his Old Trafford career under the glare of a spotlight but he currently looks like a player who, for now, needs to be taken out of it.
Source: Read Full Article