Hundreds of Manchester United fans gathered outside Old Trafford on Saturday to protest against the Glazer family's ownership over the club's involvement in the European Super League.
A large number assembled by the Trinity Statue with supporters setting off flares, hanging banners and scarves outside Old Trafford, with many wearing the green and gold colours synonymous with fan protests against the Glazers which have occurred since the American family acquired the club back in 2005.
Ahead of the protest scheduled for 3pm on Saturday, supporters groups had urged fans via their social media accounts to wear masks and remain compliant with public health protocols.
Florentino Perez: Binding contracts mean that clubs cannot leave ESL
Ole Gunnar Solskjaer: I'm glad ESL failed despite good relations with Glazers
Notebook: Glazers Out protests, Ed Woodward's legacy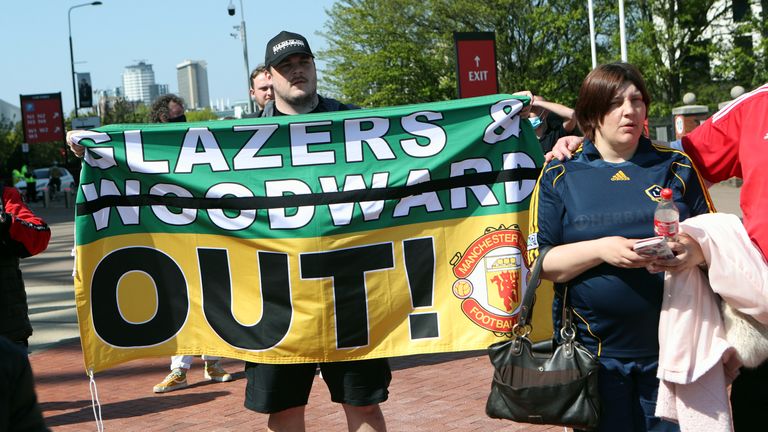 It is the second time United fans have publically expressed displeasure with the Glazers this week. On Thursday, a small group of supporters broke into the club's Carrington training centre to voice their discontent with the club's owners after they decided to join the breakaway competition.
Ole Gunnar Solskjaer, Darren Fletcher, Michael Carrick and Nemanja Matic later spoke with fans at the protest and listened to their grievances.
Trending
"United against GREED" 🔰 #mufc #mujournal #GlazersOut pic.twitter.com/CaEEaDZo4n
Joel Glazer, named European Super League vice-chairman when the announcement was made last Sunday, apologised on Wednesday in a letter to all United fans after the club pulled out of the competition.
Meanwhile, executive vice-chairman Ed Woodward tendered his resignation to the board following the aborted Super League plans but he will remain in his post until the end of the year.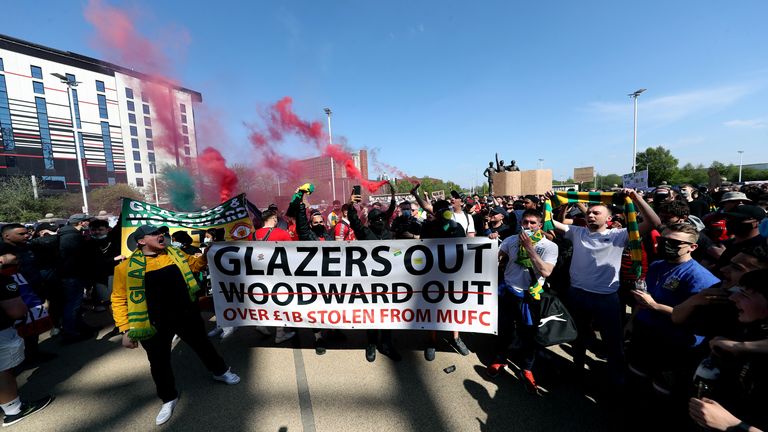 Sky Sports News understands that Woodward resigned because he could not support the owners' plans to join a Super League, but a chief executive at another Premier League club has said he was involved in the scheme "from day one".
Another organised fan protest is scheduled to take place immediately before United's home game with Liverpool on May 2.



Leeds United
Manchester United

United take on Leeds away at Elland Road on Sunday, live on Sky Sports, with Solskjaer's side aiming to secure Champions League qualification for next season with a top-four finish in the Premier League.
The protest at Old Trafford follows a similar demonstration outside the Emirates Stadium on Friday where thousands of Arsenal fans exercised their displeasure towards owner Stan Kroenke before their home defeat by Everton, with some setting off flares and fireworks and hanging banners outside the ground.
Statement from a group of Manchester United fans about a protest to demand 50+1. pic.twitter.com/S03a8RCXs8
Protests also took place earlier in the week at Elland Road before Leeds' 1-1 draw with Liverpool on Monday, and at Stamford Bridge ahead of Chelsea's game with Brighton a day later, as supporters expressed their discontent towards the project – which has been met by almost universal derision from football fans, players, managers, and governing bodies.
The 14 other Premier League clubs not involved in the breakaway plans want officials at the six clubs who plotted the European Super League initiative to be removed from their jobs.
Source: Read Full Article