Manchester City might have lost the chance of a historical landmark, but it afforded Thomas Tuchel a "benchmark".
That was how the Chelsea manager described Pep Guardiola, and that was what Saturday's FA Cup semi-final win over the Catalan felt like. The sense is that the team have now moved up to a different level under the German, and that they may now properly become a Tuchel team.
It may be a level adorned with the top trophies, and the excitement will grow that a Tuchel team could well be a Champions League-winning team – as well as one to properly put it up to City next season.
It is certainly as if we're only starting to see the potential of this side. That really shouldn't be a surprise given Chelsea are one of the wealthiest clubs in the world, with one of the deepest and strongest squads in the game, but none of that precludes the reality that Tuchel had a lot of catching up to do.
It is the speed of development that has been most impressive – and it is almost symbolised, rather fittingly, through Timo Werner scorching up the pith in so many counters. Tuchel has managed that, however, through very steady and intelligent management.
That is really the story of his time at Chelsea so far. It could yet end with the most prestigious prize in the game, and one of the club's great moments, but all comes through quiet and confident team-building.
Tuchel had been asked, in the aftermath of this 1-0 win over City, whether he could have imagined where Chelsea are now – an FA Cup final and Champions League semi-final – when he was on that plane over from Germany in January to finally take the job.
Independent Football Newsletter
Get the latest football headlines direct to your inbox twice a week
Read our privacy notice
Independent Football Newsletter
Get the latest football headlines direct to your inbox twice a week
Read our privacy notice
The 47-year-old said – wait for it – he was just concentrating on the next game, against Wolves, but this was no cliche. It was a reflection of how he's been working. Tuchel has been gradually integrating his ideology, while coming up with different gameplans for every individual game.
The first building block has naturally been the team structure, around which everything else moves. The initial effect of that could be seen in the very first game against Wolves, and the real benefits seen in the defensive record, and this semi-final.
Chelsea are now just so sturdy. Sure, the West Brom match was an aberration, but only after a red card that actually emphasised how well it usually fits together. Here, Cesar Azpilicueta and Thiago Silva were almost unbreachable, with Jorginho looking the perfect fulcrum in front.
Silva could even go off for Kurt Zouma late on and the team were just as robust.
That solidity has probably made Chelsea appear more of a defensive side than Tuchel would idealise.
The truth is they're not really defensive, it is just they have naturally solved that area first. Coaching attacking – especially to the kind of sophisticated level the German demands – tends to be more difficult, and requires more time.
We are beginning to see the effects, though. The performance against Crystal Palace was probably the finest of the season, with exactly the kind of patterns Tuchel would demand. They were never going to replicate that against City, particularly with less of the ball, so had to be calculated about it.
This was the source of the move for Hakim Ziyech's goal, that they had repeatedly tried before then. It seemed to encapsulate how Tuchel speaks of being able to bridge the gap to City over 90 minutes, while still having a lot of work to do to bridge the gap overall. He focused on one major flaw, and sought to exploit it.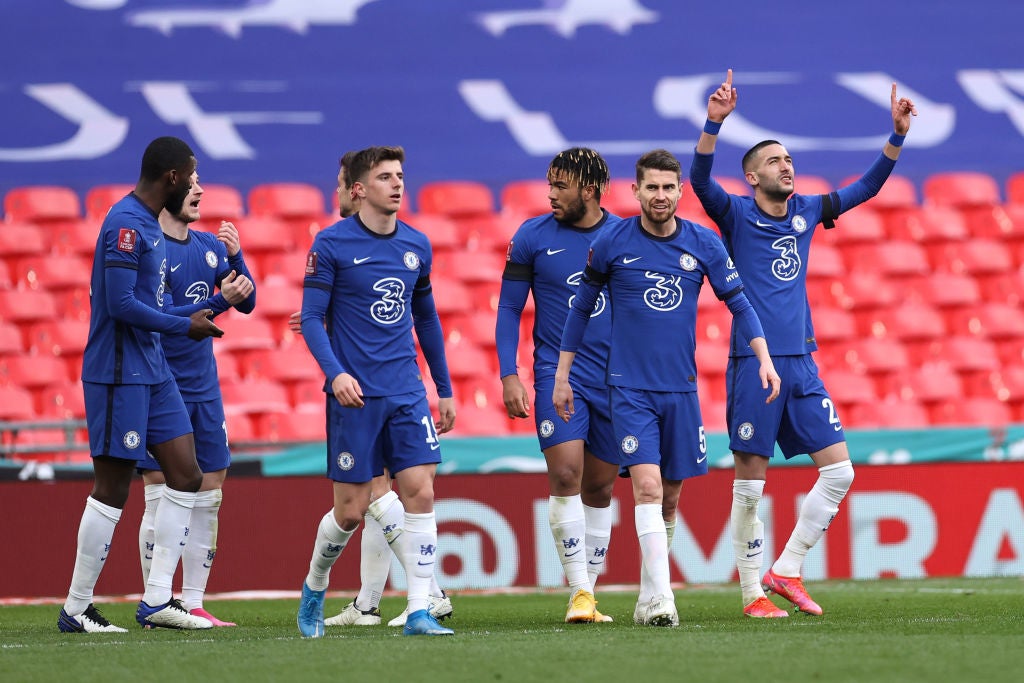 "The acceleration was excellent," Tuchel said. "The timing of the run from Hakim to attack the back of the central defenders.
"But there is a lot of work needed to create situations like this and you want to have certain patterns we can rely on because if you have patterns you can play quicker. You don't always have to rely only on intuition.
"So we want to have certain patterns but within those patterns the players need to be free. My belief is to do that justice, they need to use their creativity. But there must be a reliable environment, reliable distances and reliable behaviour around to be in the end creative or to use small margins in a situation to get the best chance."
It was, in short, a supreme solution while Tuchel still hasn't installed the attacking system he would prefer.
That will be the final step, and what could take Chelsea up to the level of City in the medium term – to really challenge for the title.
And yet they are in a place now where they are looking very good for the Champions League.
The only current issue is the omission of Tammy Abraham.
One view is that it is needlessly abrupt management, of the type that ultimately creates problems for Tuchel in the medium term.
Another is that he has worked with some of the game's finest strikers, so has a pretty good idea of what makes one, and is just sidelining a player in the way top managers do.
Either way, Tuchel is earning the right for all his decisions to be trusted. He's set a benchmark. He is on course to reach the level this Chelsea team should.
Source: Read Full Article