Mbappe collects the torch
For all Messi's balletic grace, Mbappe's gift is often one of petrification. So startling was his speed and poise, his duel with Sergino Dest resembled something closer to a lion and a dormouse – and that is not to insult one of Europe's most promising young full-backs. But at times tonight, Mbappe was simply unplayable. With such a combination of athleticism and IQ, he appears to play the game at a different speed entirely and, for those who've whispered doubts over his record in this competition, his menace was defining.
His first goal was taken brilliantly, a sharp touch to open up the angle and fire past Marc-André ter Stegen on his weaker foot. The second was a simple, albeit an assuredly taken rebound. The third, though, a devastating break, encapsulated all his sublime cool, coiled on the counter-attack and whipping a shot high into the far corner to complete his hat-trick. And the truth is, it wasn't about his goals alone. It was Mbappe's every sprint forwards that struck fear into the heart of Barcelona's defence. The phenomenal movement that causes the world's best defenders to second guess their instincts. A torch was passed tonight – one that has perhaps been inevitable ever since France's stunning victory over Messi's Argentina at the 2018 World Cup. Just like Barcelona's defence, time cannot hold Mbappe back any longer.
PSG show mettle after harsh penalty
PSG started the brighter of the two sides, bursting forwards without hesitation, only to see their early progress unravelled by the most inadvertent of errors. The contact was almost indiscernible at first glance, but as Layvin Kurzawa chased Frenkie de Jong, there was indeed the faintest collision – although not one that should have sent the Dutch midfielder sprawling quite so theatrically. Nevertheless, the decision was correct and Lionel Messi converted the penalty ruthlessly. The early setback brought a question not of PSG's talent, which has never been in doubt, but of their mettle. Their ability to respond in the face of a side who scarred them so horribly not long ago. Rather than wilt, they rose in the most emphatic way possible.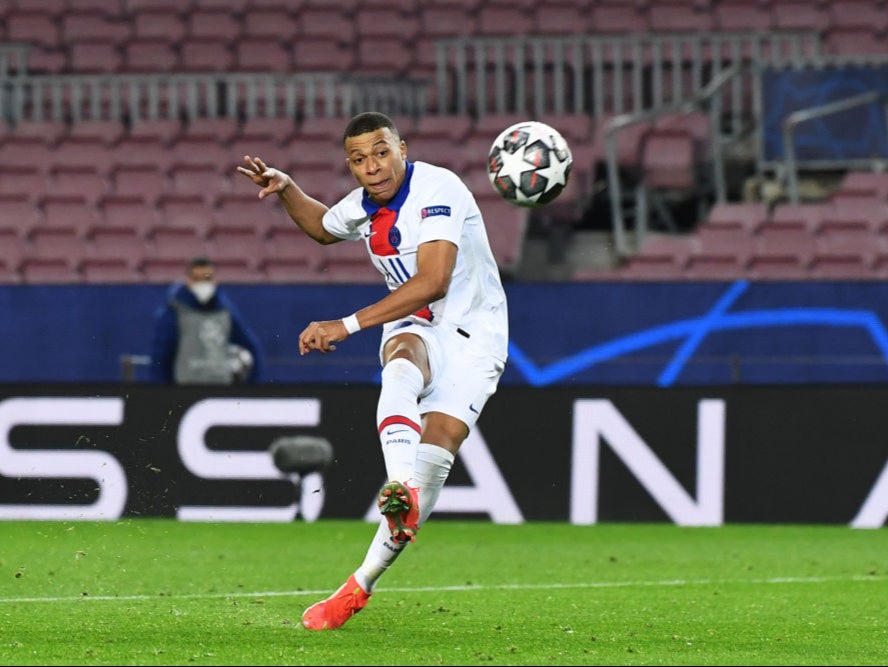 Kylian Mbappe completes his hat-trick
Kean's casting aside of doubters
In a ballad of superstars, Moise Kean, whose spirit seemed drained by a short spell at Everton, might have been regarded as something of an accessory. But on loan in Paris this season, Kean's reinvention has elevated him to a level where he can not only hold his own amongst an attacking glitterati but often stride into the spotlight. And almost immediately against Barcelona, Kean's barraging runs became the source of potent inroads, tearing into the space behind Jordi Alba. If sometimes they might look a little clumsy, they were also piercingly direct, with shots either side of half time forcing Ter Stegen into brilliant saves. And while it may not have garnered so much praise, the 20-year-old's pressing was ceaselessly determined, too, numbing the threat down Barcelona's left flank. His free header for PSG's third was a deserved reward. Perhaps, Kean's most infamous contribution on Merseyside was to be brought on and off by Duncan Ferguson in the space of 18 minutes. Tonight, he proved he has the ability to last time with Europe's very best.
Independent Football Newsletter
Get the latest football headlines direct to your inbox twice a week
Read our full mailing list consent terms here
Veratti's understated influence
It is hard to overstate the influence of Marco Verratti on a night where they took command of possession and rarely ceded ground at the Nou Camp. A chess player of a midfielder, orchestrating from the base of midfield, the Italian's fingerprints were everywhere, not least when assisting Mbappe's equaliser. His prowess is often slightly under the radar, his skill and nous laying the foundations for every attack to come, but he was clearly the standout player in a first half capped by Lionel Messi and Mbappe, and there could hardly be a greater testament to his powers.
Can history repeat itself?
Recent history proves that nothing is impossible when it comes to the realm of Barcelona comebacks against PSG. This side, though, often appear a shell of their former selves, the star power fading, the coherency of the great tiki-taka era offbeat. The hurt of PSG's defeat will loom large over the second leg, especially when defending such a dominant advantage, but the pain of the past should surely protect them from a repeat against this paler Barca in the near future.
Source: Read Full Article