London: The Premier League game between Manchester City and Arsenal at Manchester's Etihad Stadium on Wednesday night has been postponed "as a precautionary measure" due to the coronavirus outbreak, the Premier League has said.
It is the first top-flight soccer match in England to be postponed due to concerns over the virus.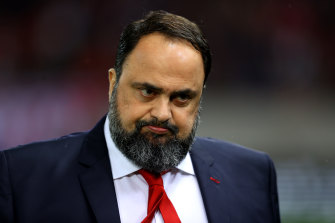 Olympiacos and Nottingham Forest owner Evangelos Marinakis has returned a positive test for COVID-19.Credit:Getty Images
"As a result, the players are unavailable for tonight's match against Manchester City and the Premier League has decided the game should be postponed.
"The players will remain at their homes until the 14-day period expires. Four Arsenal staff, who were sitting close to Mr Marinakis during the match will also remain at home until the 14 days are complete."
The league said the postponement was linked directly to Marinakis's infection and there were currently no plans to postpone other matches.
"Following medical advice, Arsenal FC and Manchester City FC consider it is necessary to postpone their fixture due to be played this evening to give time to fully assess the situation," the Premier League said in a statement.
"The Premier League has therefore agreed that tonight's game will be rearranged."
The entire Olympiacos squad and staff were expected to be screened for the virus, with Marinakis having been in close contact with their players after their last-32 triumph at Arsenal less than two weeks ago, when he was filmed celebrating with them in the away dressing room.
He also attended Forest's Championship defeat by Millwall on Friday night at which he was said to have shaken the hands of the squad. One of Marinakis' guests at the match was the super-agent Mino Raiola, whose star-studded stable is headed by United midfielder Paul Pogba.
Forest said they were ''seeking advice from medical professionals and the relevant governing bodies to ensure the correct measures are taken'' following Marinakis's positive test, which could have far-reaching implications.
Millwall confirmed that senior club representatives who came into contact with Marinakis on Friday ''have all begun a period of self-isolation''.
AP; Telegraph, London
Source: Read Full Article