On a team full of brash personalities, RB Nick Chubb's understated leadership has set the tone. But can the Browns finally find their footing and reverse direction?
CLEVELAND — As time ticked down on the 2019 regular season and the calendar approached 2020, well before anyone had a clue of what was ahead for humanity, the Cleveland Browns faded into the ether with a 10-point loss to the worst team in the NFL.
Long gone were dreams of playoff bliss and a meaningful January along Lake Erie. In their place were the annual questions about who would be the next coach to man the sideline while wearing brown and orange.
Months after the team exhausted any momentum that remained from preseason title predictions, one figure still had something to play for: running back Nick Chubb. The second-year ball-carrier had amassed a career year heading into Week 17, barreling through the 1,000-yard barrier he'd briefly cleared as a rookie and powering an otherwise lifeless Browns offense.
Chubb's best day as a pro became the Browns' single greatest memory of 2019: a 40-25 late-September win over the Baltimore Ravens in which he rushed for 165 yards and three scores on 20 carries. The victory stunned the NFL and stung the Ravens so intensely, they didn't lose another game for the rest of the regular season.
With that triumph existing only as a fleeting sign of what could have been by the season's final week, Chubb gained just 41 yards on 13 carries as part of a team that appeared more eager to clean out its lockers than try to send Cincinnati to a 1-15 finish. Still, his 41-yard day gave him 1,494 yards on the year, enough to put him atop the NFL's rushing rankings — at least for a few hours.
By the time the Sunday night game arrived, Chubb had been dethroned by a familiar figure. Tennessee's Derrick Henry capped a phenomenal campaign with a 211-yard outing in a playoff berth-clinching win over Houston. The outburst pushed Henry past Chubb for NFL rushing champion by a mere 46 yards, again leaving the Browns in the shadows.
It wasn't his time, some might have surmised. But the quiet finish to a stellar season was more befitting than most anyone could have imagined.
Chubb is known among his teammates and within the Browns organization as a man of few words. Even his new coach, Kevin Stefanski — not exactly the most verbose leader of an NFL team – has called Chubb subdued.
It's a fact Chubb will readily admit — that is, if you can get him to talk. He keeps a small circle and considers himself to be private, preferring to let his actions speak for him.
"Work ethic. [He] definitely brings work ethic," defensive tackle Sheldon Richardson said of Chubb, cracking a smile when considering his teammate's reserved demeanor. "Doesn't talk much. I bring conversation out of him. He'll talk if you talk to him, but he's not going to go generate conversation. He's usually in his phone or something, by his locker. But other than that, great guy. Excellent, excellent running back, and a true professional."
It's an approach that appears to be permeating the rest of the organization. One year after bluster, braggadocio and "whoopty hell" reigned in Berea, these Browns aren't making much noise at all.
The mantra from Stefanski's staff is concise: no bark, all bite. It fits none better than Chubb.
"I like not having the noise around us," said Chubb, who got off to a quiet start to the 2020 season with just 10 carries for 60 yards in Cleveland's 38-6 Week 1 loss to Baltimore on Sunday. "They can take it somewhere else. Let us focus on ourselves, let us keep playing."
One teammate has cracked Chubb's tight circle, although his identity might come as a surprise. The man to get Chubb to open up is someone who, from the outside, would appear to be his direct competitor: 2017 rushing champion Kareem Hunt. Brought in last season as a perceived risk following off-field transgressions that resulted in his release from Kansas City in 2018, Hunt has grown close with Chubb, who isn't battling against Hunt, but alongside him.
In the team's in-house video production "Building the Browns", Hunt can be seen joking with Chubb while also pushing him to improve, even teasing Chubb when replacing him during practice with a simple directive: "Get off the field, 2-4."
Chubb is not quite the yin to Hunt's yang, but they do have an apparent synergy, with Hunt (who turned 25 in August) doing most of the joking and Chubb (who will turn 25 in December) quietly smirking before running over a defender on the next play. Their friendship is a product of a match made by a daring former general manager (John Dorsey) who saw a talented player available, but likely didn't anticipate the impact Chubb would have on the troubled former star.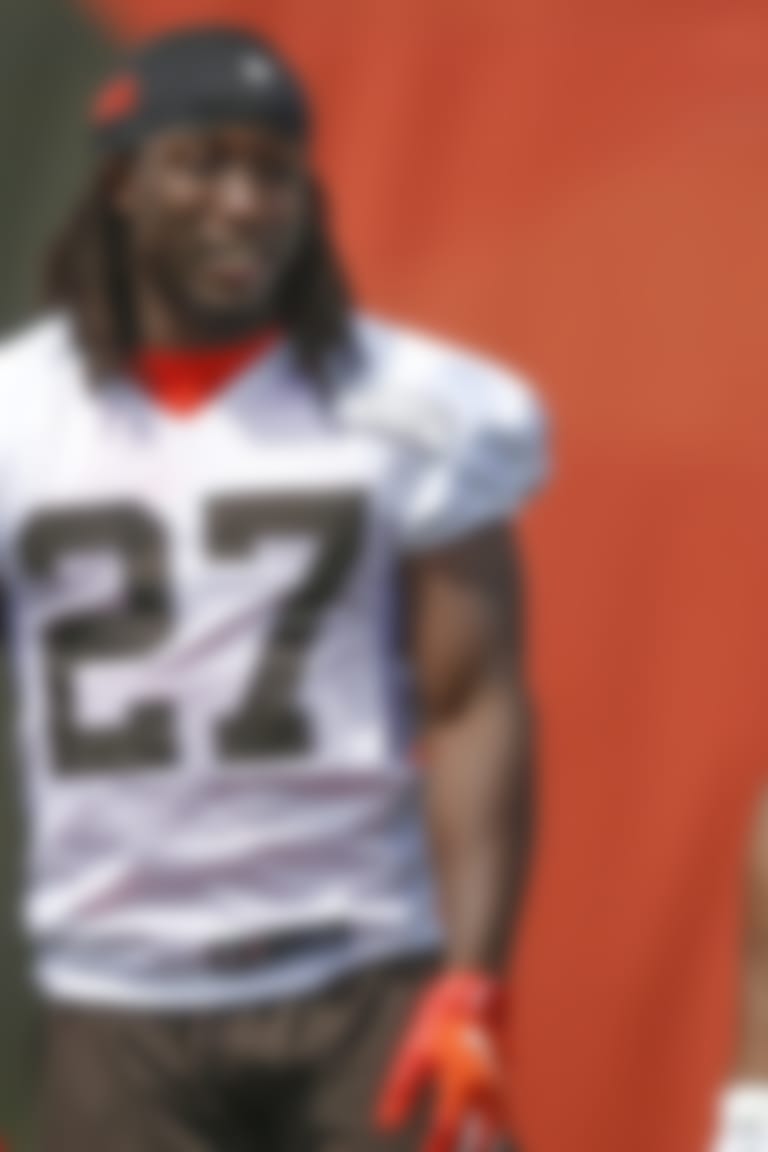 Since arriving in Cleveland, Hunt has largely stayed on the straight and narrow, going from an NFL outcast to a key part of what the Browns are trying to build. Hunt's efforts were rewarded in the form of a two-year extension that should keep him and Chubb together through 2022, provided Chubb signs an extension of his own before the conclusion of his fourth NFL season in 2021.
Some could see it as an insurance policy to protect the Browns against an unexpected Chubb departure, but that's not how he's looking at it.
"You know I'm excited about that," Chubb said of his best friend's extension. "I get to play ball with Kareem for however many more years we got, and that's a great thing for this team and for this city."
On paper, Chubb should be the lead back for Cleveland, but if Sunday is any indication, the Browns might be more interested in splitting the duties; Hunt had 17 touches to Chubb's 11 in the blowout loss. Therein lies a counter, too: Those who expected Hunt (who had 53 catches as a rookie) to see the shotgun snaps, including as a pass-catcher lining up wide, were surprised to see Chubb (who has 57 catches in his career) occupying such a role in Week 1.
Chubb is open to whatever task he's assigned.
"I think it helps our whole offense to not have a running back in the backfield sometimes, kind of switch it up and do something different," Chubb explained. "Get the [eyes of the] guys on defense moving around and just trying something different."
In Week 1, Hunt received three more carries than Chubb, though Chubb outperformed him in yards per carry (6.0 to Hunt's 5.5). Chubb's longest rush of 29 yards was 7 more than Hunt's peak run of 22.
In a vacuum, these are encouraging numbers for Browns fans. Cleveland very well could have a two-headed monster in its backfield.
But in Week 1, those numbers flattened out because of the massive deficit the Browns dug for themselves. As Chubb said, the Browns "kind of got away from" running the ball against Baltimore.
Perhaps we'll see Chubb regain the lead role he owned in 2019 – after all, it's hard to argue with the production — but under this new staff, it's not guaranteed. There likely will be some surprises, which could bode well for these Browns. And above all, history has proven Cleveland can turn to Chubb for reliable contributions.
It's impossible to dismiss Chubb's yardage total from 2019, and he's been producing consistently since he saw his first carries as a rookie in 2018.
His first breakout run came in Oakland in 2018, but his most remarkable run happened in Baltimore in Week 4 last season, and Next Gen Stats backs it up. His 88-yard scamper in that game was the third-best in the NFL in terms of rushing yards gained over expected of 2019. When Chubb was asked if he could recall his banner day, he pleaded forgetfulness.
"I don't know, it's kind of a long time ago," he said flatly. "Not at all. It's a new year, new game."
That's Chubb in a nutshell. Check the tape from his touchdown runs on that Sunday, or most any game in his pro career. While his teammates and the tens of thousands of fans watching are losing their minds, the runner tosses the ball to the official, resembling a former Browns running back whose bronze bust resides in Canton: Jim Brown.
"Silent assassin," Browns quarterback Baker Mayfield said of Chubb. "Doesn't speak much, but when he does, it carries weight. He's always been a guy to lead by example, and that's just how some guys are. You don't want him to be anybody he's not. We're not gonna ask him to do that. We don't have to ask him — he does it every day."
Chubb is the embodiment of what these Browns hope to become. They're stocked with star talent, sure, but they're also peppered with veterans who have something to prove.
Former first-round pick Karl Joseph is in town on a one-year deal after failing to earn a second contract with the Raiders. Andrew Sendejo has followed some of the familiar faces from his Minnesota days to Cleveland. B.J. Goodson and Malcolm Smith arrived as experienced linebackers looking for their next opportunity in an otherwise thin, inexperienced corps. Jack Conklin takes over at right tackle after signing a lucrative deal, and former first-rounder David Njoku, who was placed on IR Monday with a knee injury, needs to show he can still carve out a role in Cleveland.
Richardson signed with the Dorsey-built Browns in 2019 because he wanted to establish a football home after becoming something of a premier vagabond. He's already on his second coach in Cleveland, yet he seems encouraged by the differences between last year's team and the 2020 squad.
"We were young last year," Richardson said. "Guys got more on-field experience. Offensively, I think they're clicking a little bit more than they were in camp (in 2019). Defensively, I think we're still a tight unit."
The 2019 Browns were a bunch of individuals. The 2020 Browns are trying to embody the word plastered on the southern facade of their training facility: TEAM. Instead of making lofty predictions in May, they want to earn success on the field from September through January.
"We ain't woofin' about it, it's just straight work," Richardson said. "At the end of the season, we look up and look at our work and judge it off that."
Chubb is the perfect model for such a goal.
"I love how Nick Chubb works," Stefanski said. "You see him on the grass and you see him in the classroom, he is all ball, all the time. He is a good person. He is a solid citizen. He is a great teammate. Pleased with what Nick means to this team."
Of course, Chubb can't do it alone, and on a team filled with notable names — we haven't even mentioned Odell Beckham Jr. and Jarvis Landry — there should be plenty of candidates to help shoulder the load.
Those players' reputations tend to fit the brashness of the past Browns, though. Stefanski's team is out to speak with action.
As proven on Sunday against Baltimore, Stefanski's calm, steely focus on the task at hand will be tested early this season, as the Browns will still have eyes trained on them even after falling flat on their faces last season. There's simply too much talent on the team to fly completely under the radar in today's NFL.
Critics eagerly pounced on their Week 1 obliteration at the hands of the Ravens as a sign of the same old Browns, stirring up a new batch of drama related to the lack of Beckham's production ahead of their Week 2 meeting with Cincinnati on Thursday night.
"I know that none of us played the way that we would have wanted to play on Sunday," said Beckham, who finished with just three catches for 22 yards in the season opener, extending his streak of games with fewer than 100 receiving yards to 11. "You kind of just have to give your hats off to the Ravens. They came out there, they were the better team, they beat the [expletive] out of us. And we keep it pushing."
The Browns were thrashed in Week 1 of 2019, too. The difference between that regime and this one, according to Mayfield, is Stefanski's emphasis on holding everyone to their obligations, which will be tested Thursday night on a short week after the embarrassing display to open the season. After Freddie Kitchens encouraged personality and plenty of extracurricular entanglements to demonstrate toughness last summer, Stefanski's team isn't about the nonsense.
The arrival of general manager Andrew Berry and elevation of strategist Paul DePodesta to a more involved role within the organization produced the hiring of Stefanski, and according to one Browns source, has created a much more disciplined environment inside the building.
A year after too much energy was spent on footwear or wristwear choices, these Browns intend to be buttoned-up.
"The accountability sense. I think just everybody has to do their job," Mayfield said of the influence Stefanski has had on the team's ever-evolving culture. "The mentality of we're counting on everybody in this building, not only players, but staff, everybody that has a hand in the pot to do their job to help us win. It's about winning."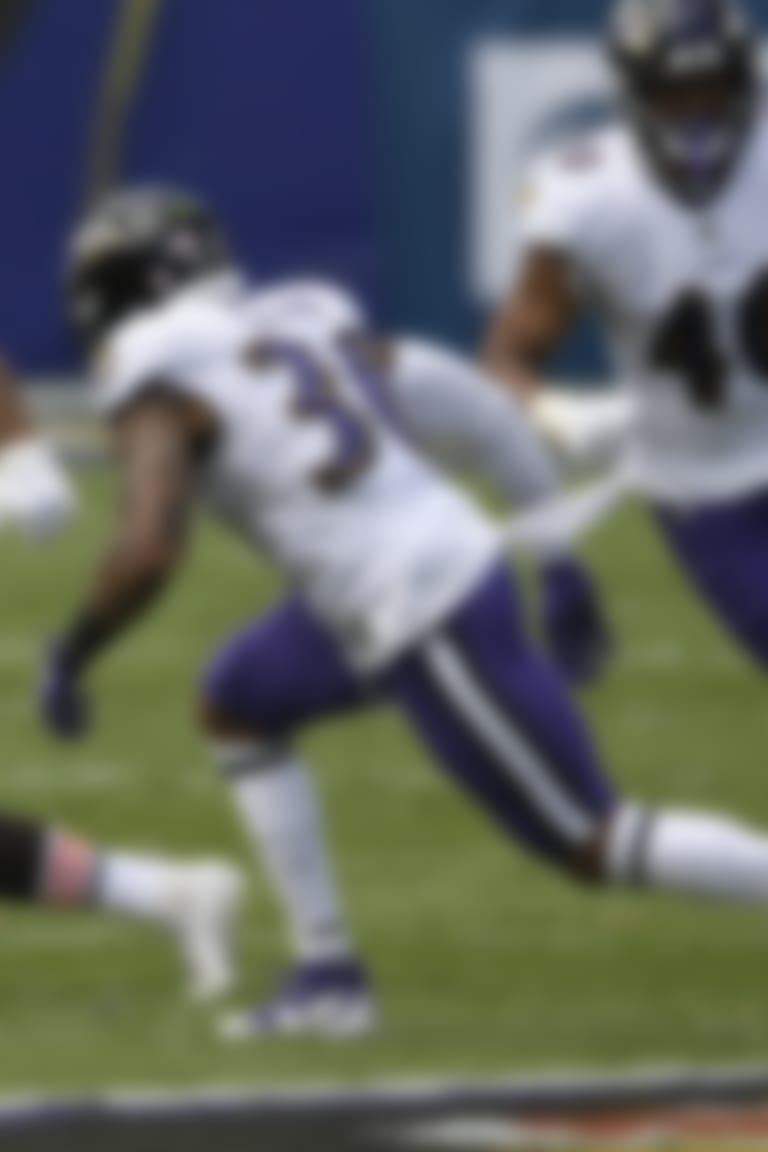 No one is about strictly winning more than Chubb, who agreed with the notion his approach might be spreading among his teammates.
"Just not worry about anything else," Chubb explained. "Just focus on home and make sure we're right here first."
The Browns' famous figures aren't filling magazine spreads or airwaves this time around — save for Mayfield's recurring Progressive and Hulu commercials — in part because of the COVID-19 pandemic and also because they simply don't have the same buzz surrounding them. Only two of their stars really achieved in 2019: Chubb and Landry, who both made the Pro Bowl.
The lack of attention might be a good thing, because it spares them at least some of the weight of expectation, which felt as if it could bring the team plane down following Cleveland's blowout loss to San Francisco last season.
With no preseason and a new staff in charge, they don't need the attention; they just need the opportunity.
"It's tough to say, you know what I mean?" Beckham said when asked about the differences between the 2019 and 2020 teams. "I guess the only real judge is Sundays. Everything else, it's neither here nor there. The ultimate tests are always on Sundays. … I feel very good about this team and this staff."
Less than a year after sparring with Kitchens on the sideline in Arizona, Beckham's best friend, Landry, said he's "very excited" to play for Stefanski. There's a sense of new life with these Browns.
But like Chubb, they just aren't going to shout about it. They'll let their play do the talking.
Follow Nick Shook on Twitter at @TheNickShook.
Source: Read Full Article