Deontay Wilder believes Tyson Fury isn't telling the entire truth ahead of their heavyweight showdown today.
'Biggest fight in 50 years'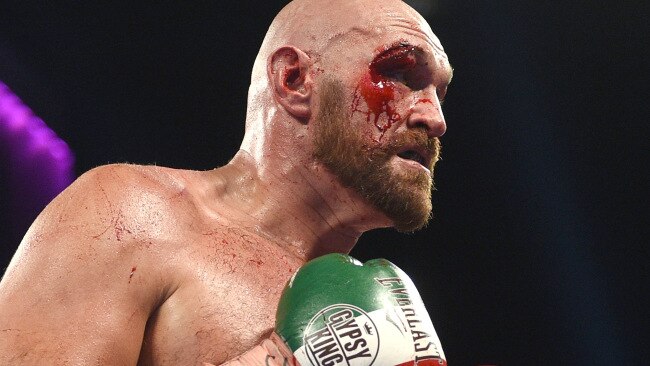 Welcome to our live coverage of the WBC Heavyweight title fight between Deontay Wilder and Tyson Fury.
For the past 14 months the boxing world has been calling for a rematch between the two biggest fighters on the planet.
The time has finally come with the crown of heavyweight king up for grabs.
Can Wilder drop and keep Fury on the canvas or will the Englishman hand the champ his first ever professional loss?
The main card is set to get underway from 1pm (AEDT).
Watch Tyson Fury vs Deontay Wilder on Sunday, February 23 (AEDT) only on Main Event. Order it now here
Live Updates
Wilder's theory over Fury's cut
Deontay Wilder has claimed that Tyson Fury wore sunglasses to their final press conference because the cut above his eye was reopened in sparring.
The Gypsy King suffered a horrendous cut in his last outing against Otto Wallin, with the gash requiring 47 stitches as well as having web mesh inserted.
Attending the final press conference on Thursday, Fury, 31, rocked up wearing a hoodie and shades.
He did however rock up to Saturday's weigh-in with his face in full view for the fans to see.
? #WilderFury2 Lets Hear Your Pick!?!

?? Tyson Fury via Unanimous Decision

? I'm praying the cut doesn't reopen pic.twitter.com/JnfqYwBDiJ

However Wilder, 34, took to Instagram where he declared that his opponent's eye is vulnerable.

"The cut that Fury got in the last fight is going to play a big factor in this fight," Wilder said when asked about the cut.

"I heard it got reopened in sparring, that's why he was wearing the hoodie and the shades at the press conference.

"If I cut that thing open again, it's going to be a mess. We're going to see what happens after that.

"But hopefully it don't open, because I don't want this fight to stop.

"I want people to get their full viewing and their money's worth for this fight and I want it to last all the way until I knock him out on the canvas and we see what he does when he hits the canvas this time."

❓ Deontay Wilder claims he's heard a rumour suggesting Tyson Fury's cut reopened in sparring…

[? @BronzeBomber] pic.twitter.com/kiGVexDntR

– Jake Lambourne, The Sun

Tale of the Tape

Deontay "Bronze Bomber" Wilder — Tyson "Gypsy King" Fury

Age: 34 — 31

Fight record: 43 (42-1-0, 41 KOs) — 30 (29-1-0, 20 KOs)

Height: 6 foot, 7 inch (201cm) — 6 foot, 9 inch (206cm)

Weight: 231 pounds (104kg) — 273 pounds (123kg)

Reach: 83 inch (210cm) — 85 inch (215cm)

Wilder vs Fury card

Main card

Deontay Wilder vs. Tyson Fury (WBC Heavyweight title) — not before 3pm (AEDT)

Charles Martin vs. Gerald Washington (Heavyweight)

Emanuel Navarrete vs. Jeo Tupas Santisima (WBO Jr. Featherweight title)

Sebastian Fundora vs. Daniel Lewis (Jr. Middleweight) — 1pm

Undercard

Subriel Matias vs. Petros Ananyan (Jr. Welterweight)

Amir Imam vs. Javier Molina (Welterweight)

Rolando Romero vs. Arturs Ahmetovs (Lightweight)

Gabriel Flores Jr. vs. Matt Conway (Jr. Lightweight)

Vito Mielnicki Jr. vs. Corey Champion (Welterweight)

Isaac Lowe vs. Alberto Guevara (Featherweight)

Source: Read Full Article