Australian boxing legend Jeff Fenech has waved goodbye to Anthony Mundine with a scornful verdict on the 35-year-old.
Undefeated rising star produces JAW DROPPING KO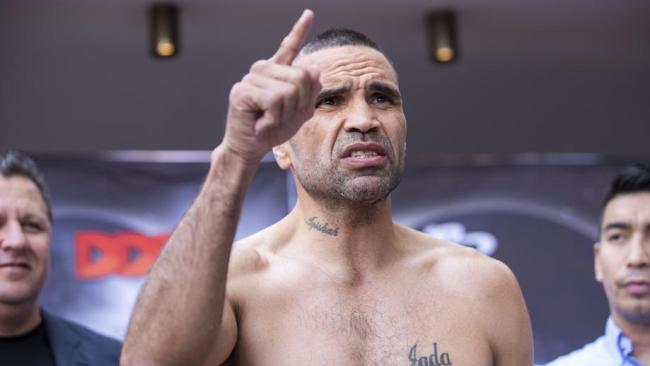 Anthony Mundine. Photo: AAP.
The curtain will fall on Anthony Mundine's rollercoaster boxing career on Saturday night in the bizarre scenes of a fight night that has gone largely overlooked.
The former world champion's final ever fight comes after he performed a retirement backflip to take on Aussie slugger Michael Zerafa.
Mundine has said he will hang the gloves up even with a victory, while Zerafa needs an emphatic, statement victory to have any chance of stoking the fires for a blockbuster all-Australian showdown with Tim Tszyu.
The star-studded card includes two fights for WBA Oceania titles with Cherneka Johnson and Shannon O'Connell scrapping for the WBA Oceania female bantamweight strap after Blake Caparello and Faris Chevalier fight for the WBA Oceania light heavyweight title.
Mundine has been widely criticised for returning to the ring after suffering painful recent losses to Jeff Horn and John Wayne Parr – he has also won just one fight since 2014 – but the high profile boxer notoriously known as "The Man" gets to have the final say on how his career ends during the Bendigo fight night.
Mundine said earlier this week he has made $34 million in his career and doesn't need to step back into the ring for the purposes of one final payday.
You can read all the details on how to watch the fight and what time it will start here.
Live Updates
Full fight card
Michael Zerafa vs Anthony Mundine (WBA Oceania middleweight title)
Cherneka Johnson vs Shannon O'Connell (WBA Oceania female bantamweight title)
Blake Caparello vs Faris Chevalier (WBA Oceania light heavyweight title)
Lachlan Higgins vs Ryan Mitchem (middleweight)
Mason Smith vs Ray Ingram (light middleweight)
Josh Gottschalk vs John Min (super lightweight)
Benjamin Bomber vs Scott Kelly (cruiserweight)
Sam Abdulrahim vs Stuart Stokes
Waleed Haddara vs War Pa (cruiserweight)
Jeff Fenech's scathing Mundine verdict
Aussie boxing legend Jeff Fenech has delivered a contemptuous verdict on Anthony Mundine's decision to come out of retirement for one final fight.
Fenech on Saturday said Mundine had already shown he isn't up to stepping into the ring at the age of 45 after he was knocked out by Jeff Horn and suffered a painful loss to John Wayne Parr in 2019.
Fenech had previously said it was "embarrassing" for Mundine to fight Parr, pointing out how far he had dropped from when he won the WBA super middleweight and IBO middleweight championships.
"Anthony's days are well and truly behind him, and to be honest, I think it's embarrassing to the sport of boxing.
"I think it's embarrassing."
He took it another step further ahead of Mundine's fight with Zerafa, be telling ABC Grandstand Mundine has already shown he has no place stepping back into the ring.
"There's some stages in people's lives where the doors should be closed. His last few fights he's shown he doesn't have the resistance to take a punch anymore," he said.
Comments
Add your comment to this story
To join the conversation, please Log in. Don't have an account? Sign up
Join the conversation, you are commenting as Logout
Source: Read Full Article