Brooklyn Nets star Ben Simmons has declared he feels "physically great" and mentally fresh to return to playing when the NBA season tips off next month.
Simmons, 26, missed the entire 2021-22 season because of contractual, physical and mental health issues, when he did not suit up for the Philadelphia 76ers nor the Nets, whom he was traded to in February as part of a deal for James Harden.
The Melbourne-born playmaker, having recovered from back surgery, has been privately working out with Kevin Durant and Kyrie Irving and insists the trio has already built "incredible" chemistry, ahead of the season-opener against the New Orleans Pelicans on October 20.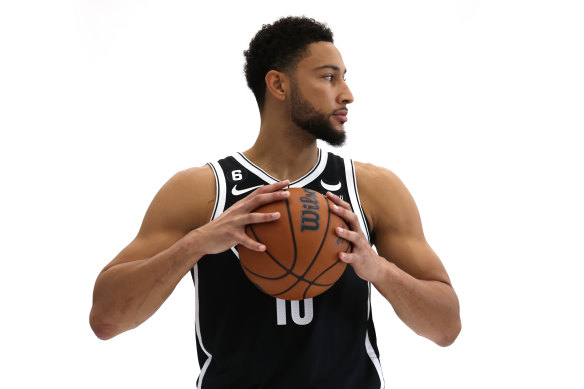 Ben Simmons, posing here at the Brooklyn Nets' media day, says he is looking forward to playing again, having missed the entire 2021-22 season.Credit:Getty Images
It's been a dramatic off-season for the Nets. Durant – arguably the league's best player – failed in his bid to be traded because of the assets the Nets wanted in return, while Irving, also interested in moving, realised there were few, if any, interested suitors (due in large part to his vaccination status) and opted in to the final year of his contract.
Simmons, however, was in an upbeat mood at the league's annual media day to open training camp, and said he had made significant improvement in his health.
"Physically, I feel great. I've been working on myself this past year to get back on the floor and play at a high level," Simmons said.
"I deserve to take this opportunity by the horns and get back on the floor. I'm excited to team up with these guys and coaches, and I'm looking forward to it.
"Everyone has dark days. When you're able to address it and work towards a place you need to be, that's where I am. I don't care about narrative, or people saying certain things. I'm going to go out there [and] play, I'll let everyone else talk … expectations, that's for you guys (in the media)."
Simmons, a three-time All Star, said it was a "blessing" he could now play with Durant and Irving.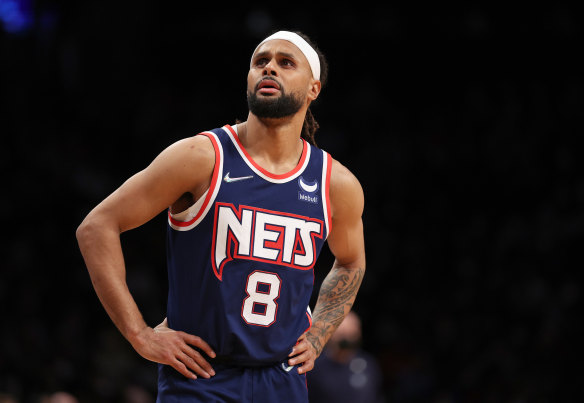 Patty Mills hopes fellow Australian Ben Simmons can have a strong season and help the Nets be a championship force.Credit:Getty Images
"Obviously, someone asked for a trade – different things were going on," Simmons said.
"I don't worry about that stuff because I can't control it. Obviously, it's a blessing to be able to play with a lot of talented players, but I just focus on what I can contribute to this team and that moment it's getting healthy."
Fellow Australian Patty Mills said Simmons, who had criticised the 76ers for not doing enough to help him cope with his mental health issues, had learnt from "the good, bad and ugly" of his career.
"I've supported him from afar for a long time now. To step on the hardwood with him, I'm really looking forward to it," Mills said.
"I deserve to take this opportunity by the horns and get back on the floor. I'm excited to team up with these guys and coaches, and I'm looking forward to it."
The Nets hope Simmons, a two-time all NBA defensive first team selection, can again be pivotal behind the ball, while offensively being able to push the pace and find Irving, Durant, Mills and Seth Curry for open looks.
Much has been made of Simmons' unwillingness to shoot the three. Asked about this on a podcast with former teammate JJ Redick last week, Simmons replied: "Yeah, I need to. I'm going to out there and put some up".
Simmons has attempted only 34 three-pointers in his career, connecting on five.
Irving said Simmons was tracking well and had "greatness" in him.
Kyrie Irving has his own point to prove with the Nets this season.Credit:AP
"It's not too often that you get a chance to see a 6ft10 guy do the things he does," Irving said.
"We can talk about the intangibles, we can talk about all the strengths, but what I've been able to observe from afar as a competitor for the past few years, but now as a teammate, is his resolve and his resiliency.
"He wants it, whatever greatness looks like to him, he wants it. When you're around other great people, and you're in a great environment where you can be supported when you're going through your ups and downs, I think that can help ease the journey.
"That's ultimately what I would like to play within this position and this role on our team … being able to protect him when needed but knowing he's a big boy, he can handle it."
In 275 career games, Simmons has averages of 15.9 points, 8.1 rebounds and 7.7 assists per game.
Irving has his own tale of redemption ahead. He conceded he now has a reputation that leaves teams concerned with whether he will play an entire season. That, in part, comes from his unvaccinated status, which restricted him to only 29 games, six at home, last season because of New York City's COVID-19 vaccine mandates.
Meanwhile, South East Melbourne Phoenix have confirmed Chinese centre Zhou Qi will return for the NBL season, beginning this week.
News, results and expert analysis from the weekend of sport sent every Monday. Sign up for our Sport newsletter.
Most Viewed in Sport
From our partners
Source: Read Full Article